Free Government Money?
What's the deal with all this talk about free government money? You probably saw lots of advertising and web sites trying to sell books, services, guides and what ever government free money things they'll come up with next.
So is this "free government money" for real? The answer is yes and no
Free government money: myth or reality?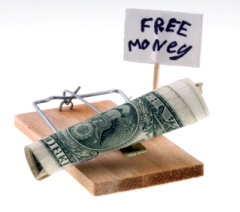 The first part of the answer is yes, here's why. Governments at every level are awarding money to different organizations that are helping people. These organizations receiving money from the Government are States agencies, community groups and non-profits. The Federal government gives them money to redistribute it closer to where there are needs. This means the Federal government. for example, grant money to many organizations and groups but rarely gives grants to individuals. If you need and want to receive money coming from the government you have better chances contacting those local organizations instead of the government. That been said this not free money for these organizations. They cannot do whatever they want with the money. They are accountable for the results and projects they do with this money. And here's the 2nd part of the answer: no. As you can see the government is giving money but it's not free money; the money comes with obligations.
This little disctinction is what many companies and web sites are using to create confusion and sometimes even scam people in need. Don't fall in the mouse trap.